How to Fix Stained Teeth - 4 Teeth Whitening Myths Debunked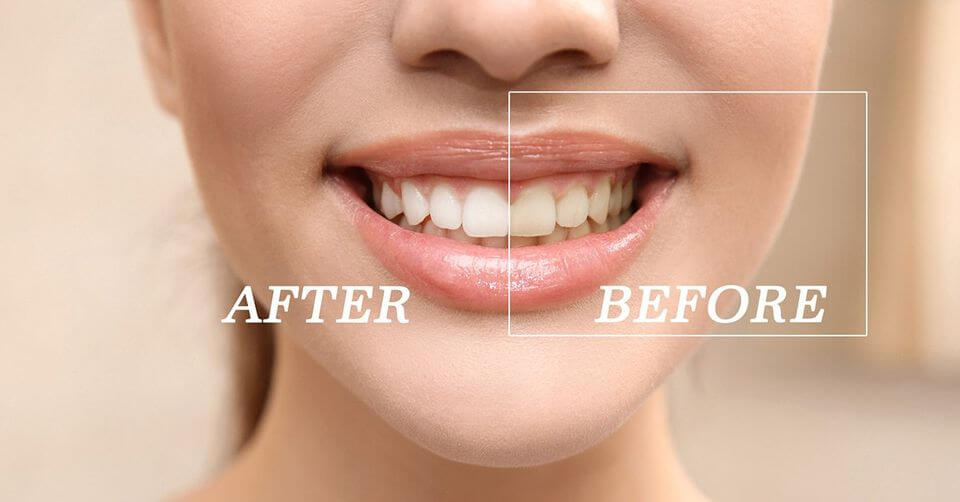 by
Faheem Arif
On
Nov 30, 2022
-
Comment
Did you know that 67% population in the US is conscious or you can say unhappy with their smile? The major chunk of the population has discolored or misaligned teeth, and the rest few have cracked or missing teeth or have gaps in their teeth.
We won't lie. Stained teeth never look appealing. In fact, they badly impact your overall look. It is such a growing problem that must be addressed. This is one of the reasons why you see so many commercials for whitening strips and tips on the internet. If you are here to learn 'how to fix stained teeth' we must say you are lucky because we have addressed everything related to stained, yellow, or discolored teeth in this guide.
4 Ridiculous Teeth Whitening Myths:
1) Teeth whitening will harm your enamel
2) It is a forever thing and you will never have to re-do it
3) Teeth whitening makes teeth extremely sensitive
4) Whitening will make them look unreal/fake
How to Fix Stained Teeth - 3 Instant Ways
Since stained teeth is no more a rare issue, easy home remedies and over-the-counter products have emerged to deal with this issue. Check out these quick and safe remedies made for your query about how to fix stained yellow teeth.
1. Use Whitening Toothpaste
Earlier, we also used to think that these whitening toothpastes were nothing but a piece of deceptive marketing, but we were wrong. After coming across brands like Colgate and Crest3D, our perception of whitening toothpaste has completely changed. And honestly, what could be simpler than just brushing your teeth twice a day with whitening toothpaste to erase all the stains?
Apart from that, the brushing technique also matters. We have seen so many people with the habit of brushing with horizontal strokes across their teeth which is wrong. They don't work well with removing plaque; therefore, they remain intact and form a firm layer on your teeth. It is recommended that you brush with vertical strokes across the teeth and rinse your mouth with mouthwash afterward.
Where to buy it: Here is the link to buy the best whitening toothpaste online.
2. Apply Activated Charcoal
Do you often wonder how to fix coffee stained teeth? If yes, then definitely activated charcoal can be the best option for that. Activated charcoal comes in the form of a capsule made from heated wood to remove stubborn stains on teeth. It has other medical uses as well, like, detoxicating drug overdose, etc. take a small amount of the product and apply it to your teeth or put them on your toothbrush and gently brush across your teeth. Make sure you use it in small quantities and once in a while because it can destroy your enamel.
Read more: How to Fix Enamel Erosion and Prevent it?
Where to buy it: Check this link to get the product at affordable prices on Amazon.
3. Rub with Lemon or Banana Peel
Yeah, this may sound absurd, but certain fruit peels help a lot with reducing stains from teeth, especially lemon, banana, and orange. Just take a peel of any of these fruits and rub their inside part onto your teeth. The citric acid compound in them helps you clean the stains. You will find brighter and shinier teeth as an end result.
Tip: To get more desirable results, do the thing after brushing.
3 Over-the-Counter Teeth Whitening Solutions
If you are up for over-the-counter solutions for teeth whitening, here we have listed your safer bets.
1. Tooth Whitening Strips
Tooth whitening strips are a quick solution for teeth whitening. If you are running late and want to fix your smile in a minimal time, you can go for this option. These thin carbamide peroxide-coated strips are applied like a Band-Aid to work against the enamel.  Keep it applied for a few minutes, and rinse your mouth with lukewarm water.
Some strips give instant results on the spot, while others take up to 3 attempts to show their results.
Where to get it: You can get Crest or Oral B teeth whitening strips from Amazon, which are the most running brands.
2. Teeth Whitening Pens
Teeth whitening pens are a new technology that is recently introduced for teeth whitening. These whitening pens contain carbamide or hydrogen peroxide to clean your teeth. To use them, you need to apply them to your teeth and wait until the bleaching agents break down/remove the plaque. Some people find it more convenient than using whitening strips.
Where to get it: These whitening pens are conveniently available at Amazon. Colgate Optic is popular among all.
3. At-home Bleaching Trays
This is another type of whitening method to improve mild or slight stains on the teeth. In this method, a bleaching paste or gel is applied against the teeth for a said amount of time and as per the instructions on the packaging.
While this method is not as effective as whitening strips, it provides a decent shine for patients with mild stains.
Where to buy it: At-home bleaching trays are available online and in-store retail shops at around $150 - $300.
3 Methods to Fix Stained Yellow Teeth
Yellow tooth is a common problem for most American. It typically happens due to bad eating habits. But the good news is that you can treat them using the following hacks:
1. Coconut Oil
No, we won't give you a recipe for coconut chicken curry. Jokes apart, coconut oil is an effective technique to get rid of yellow teeth. The method is commonly known as coconut oil pulling. All you need to do is take two to three tablespoons of coconut oil and swish it into your mouth for 10 to 30 minutes. Spit it out and rinse your mouth with clean water, then brush your teeth.
Note: Don't let the oil slide down to your throat nor let it swallow to your stomach, as it won't be ideal for your health.
2. Apple Cider Vinegar
You probably have heard of apple cider vinegar for its multiple health benefits. It is an amazing product for teeth whitening and has given proven results to many people. Due to its acidic nature, it instantly breaks down plaque and brings up the bright layer of your teeth. However, some experts condemned its use due to its harsh nature, which eventually leads to dental erosion. We would also suggest you keep its use as minimal as possible and try it only in desperate situations.
3. Baking Soda and Hydrogen Peroxide
Baking soda and hydrogen peroxide have become quite popular for treating yellow teeth. You can either make a paste out of both ingredients or get a toothpaste that contains them both in its ingredients.
These are the tips for getting whiter teeth. They will also work great to remove coffee and other types of stains as well.
How to Fix Yellow Teeth with Braces?
This is another popular question that we get, and we suggest such candidates get whitening strips/pens or in-office dental treatments every time. While they may give you temporary shine, proper whitening is only possible after braces removal.
How to Fix Discolored Teeth?
For discolored teeth, our experts recommend getting either porcelain veneers or dental bonding. While you can use the already mentioned home remedies, they won't be exceptionally effective in your case.
Conclusion
So these were our top-suggested home remedies for teeth whitening. That said, if none of them work, then there might be some underlying health condition that must be concerned about. Show up at your routine dental checkups to maintain good oral health.
Popular Posts
by
Faheem Arif
On
Jun 24, 2022
by
Faheem Arif
On
Jun 24, 2022
by
Faheem Arif
On
Jun 24, 2022
Latest Posts